After my first Reiki session in 2008, I immediately knew that this tool would be invaluable for me for my own self healing and practice. I have completed two full rounds of 3 levels of Reiki trainings, and have had a 3rd Reiki Master weekend training as well. I have been attuned to both the Traditional Usui Reiki and Transcendental Reiki lineages. I have a sustainable and growing Reiki practice in Boulder, CO and have committed myself to teaching others.
My Reiki practice is ever evolving and I strive to share that awe and appreciation with others. I incorporate teachings from herbalism, earth centered bodywork, and chi kong practices. I call on my inner wisdom/ and intuition to guide my intentional touch. I am a seeker and excited to be on this healing path, part of a lineage of healers, refining this art, and immersing myself in my personal process.
This work continues to inspire my life work and is now a deep part of my everyday practice and the way I show up for myself and my work in the world.  I am honored that you are allowing me to accompany you on your Reiki journey.
Reiki 1 Training with Blair Chandler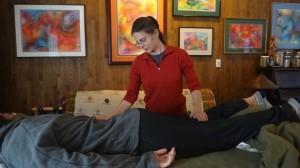 I offer one-on-one, personalized Reiki training sessions in Boulder, Colorado and beyond. My Reiki training techniques focus on flexibility, tailoring the session to your needs and strengths.
Reiki 1 includes a minimum of a 4 hour class with additional practice opportunities.
I require a $75 non-refundable deposit, or you may pay in full $315. The remainder is due before your first session begins.
---