Through herbal crafting and extensive Reiki training, Blair Chandler shares a wide variety of skin and soul products that are created with deep intention from seed to market. Please read the glowing testimonials from her Reiki students and clients as well.
Over the last four-years at the Boulder Farmers Market, Blair has proven herself to be a dedicated, caring, and savvy businesswoman. Her sales have increased year-over-year as a result of her ability to build customer loyalty and quickly integrate her experience back into her business. When walking through the market, I find Blair's customers are smiling, laughing, and enjoying both themselves and her product. Blair is passionate, intelligent, and an asset to our market. I highly recommend her as a collaborator on any project.

– Brian Coppom, Executive Director, Boulder County Farmers Markets
I just wanted to write a quick thank you. I purchased the Vanilla Honey Body Salve on Saturday at the Boulder Farmer's Market and have been using on my two year old son. The day we began using it, he had a rash all over his arms, legs and face that his doctor says is eczema.  Since Saturday, we have been applying after baths and as of this morning (Monday), there is no rash at all and no more itching! I have tried a million and one products all seeming to say they were natural and effective, only to have his skin break out even more. Not this time, your product is awesome.  I can't wait to try out some more products.

Thank you, thank you, thank you!

– Erica B.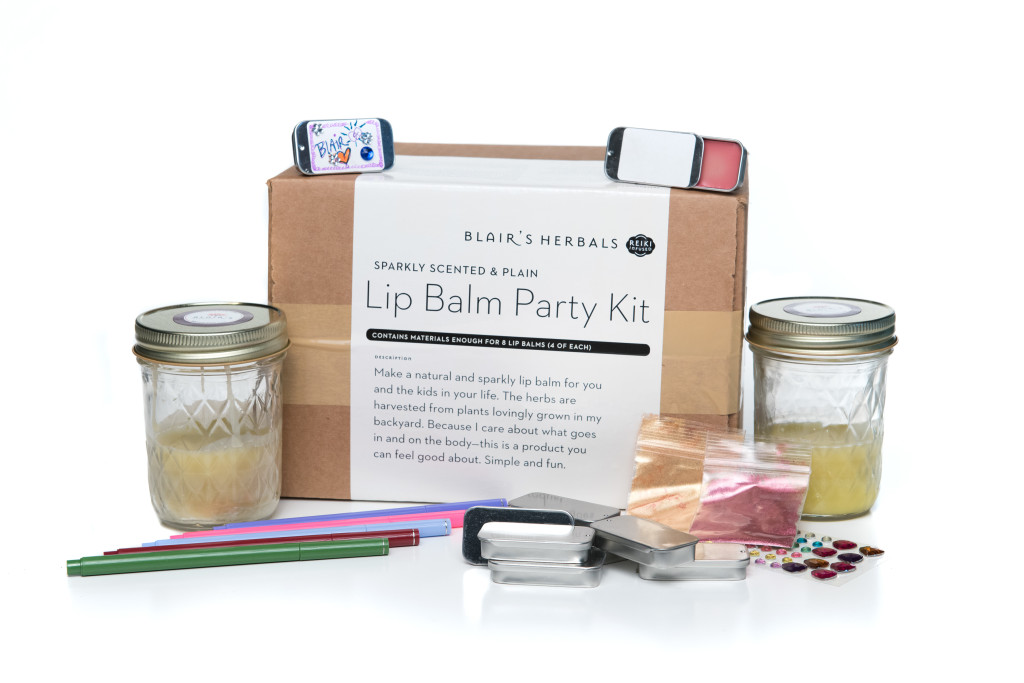 We really enjoyed the Lip Balm Party Kit! I appreciate the detailed instructions you left inside the box. I followed them and the activity turned out successful. Everyone had fun mixing their herbs and sparkles inside their custom made lip balm tins. I will recommend this kit to anyone looking for a fun activity to do at a party. Thanks again for your awesome lip kit and follow up!

– Jenni
I am typically reluctant to buy handmade soaps because my experience has been that they fall apart quickly and/or end up as mush in the soap dish. When my husband bought a bar of goddess soap from Blair's Herbals for me as a gift, I was afraid to use it. I perceived it as an art piece but not as something practical. I could not have been more mistaken! After I unwrapped the soap and placed it in my soap dish, I was surprised to discover that it held up magnificently. Not only did it NOT fall apart or turn to mush, the goddess figure on the soap remained intact for months! I can't believe how long the soap lasted (nearly a year with daily use), remaining beautiful the entire time. I also found it to be the best bar soap I have ever used – cleansing, moisturizing and an absolute pleasure to use. I can't imagine ever buying any other hand soap but Blair's and now have in mind a delightful gift to buy for others to enjoy.

– Leyla S.
Slept with my rag-tag handmade dream pillow, and after almost never remembering dreams I woke up three times with a dream on the tail end. Two I cannot remember now- didn't make a note – but one stays. Naked at the end of TSA check. Sounds like me. Follows rules too closely. Haha!

Discovered I hurry through my sewing so I need more reflective time. Loving this. Planning to sew more.

– Donna C.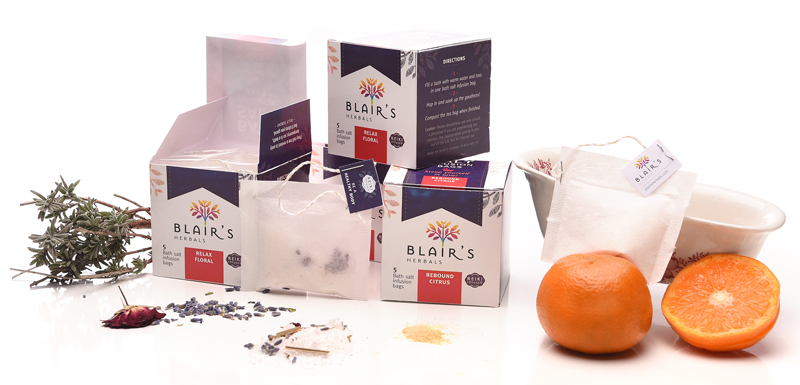 Blair's Bath Salts are an all time favorite in my array of self care goodies.  The Bath Salts are made of the finest ingredients including fresh flowers and herbs that smell so divine I melt every time I slip into the bath.  What I love most is the freshness and the soft quality of the salts.  I feel rested and inspired after each soak and I can not wait until the next!

– Gillian E.
I want to reach out and express deep gratitude for the precious gift of your oil this weekend… It touched me so sweetly! I offered it to my sisters when we gathered and danced together in the cave on Saturday… and I also offered it to the womyn circle that I hold weekly in my home!! Both times it was received so graciously and added a heart healing energy to the ceremony space…I could feel the powerful, nurturing of the Feminine present. It felt so good to me to have the spirit of the herbs present in that way… and I am again so immensely grateful for your kindness 🙂 Thank you for every action that you make that brings light & love into this world.

– Grace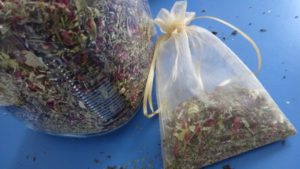 Blair gave me one of her homemade, Reiki-infused soaps as a gift when we completed a 40-day meditation practice. The soap was heart-shaped and smelled of roses. It was quite beautiful. I put it in my bathroom drawer wanted to save it for a special occasion. It seemed too nice to just use every day.

 

A week or so later, I became quite sick with adrenal fatigue. I spent two days in bed, hardly able to move, with pains located in my lower and mid back. With some rest, that pain subsided, and a new pain arose in my shoulder joints. I was not sure what it was, but it was quite painful and none of the remedies that I tried seemed to help. I was getting ready to take a bath, hoping that the hot water would relax the pain away when I remembered Blair's soap sitting in my drawer.

 

The soap was infused with healing energy; maybe it could help in some way. I entered the tub and placed the soap on my right shoulder where the pain was located. I let it rest there for about 5-10 minutes before switching sides. Nothing seemed to change so I continued my bathing process.

 

I needed to wash my hair, so I drained the tub and began to run the shower. About 5 minutes later, I began to feel really hot and faint. I turned down the temp of the water, but it did not help. I gently reached for the floor of the tub to lie down. I began crying. My whole body was burning up. Suddenly an energetic vibration began to ring in my shoulders where the pain was located. Then the energy moved down my arms into my hands. The energy was so powerful that I could not move. I feared that I would never move my hands again. I looked that them and they looked crippled and deformed. A warped perception I am sure because moments later they were back to normal. During the experience, I felt like I was dying, something was being released and transformed.

After a few minutes, a calm came over my body. The pain was not gone, but something had changed. Over the next few days, my shoulders healed, and I no longer feel any pain in my joints.

 

I'm not sure how to explain what happened in my shower that day or how it affected my body. One thing is undeniable, it was a profound experience ignited from a small object infused with healing energy.

Thank you Blair.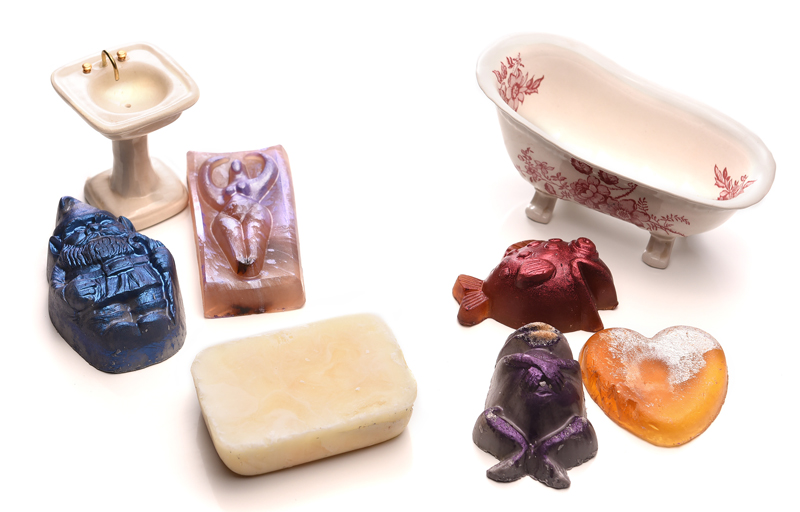 Blair was such a blessing during a very hard time in my life, right after my second child passed away shortly after birth. Just being around her was so healing. I took a class with her to learn soap making, (you can include breast milk if you want, or not, I don't mind). I plan to continue doing many more classes with her as well as permaculture and Reiki.

I felt I had made a wonderful new friend. It was like I had known her for years.

I was also so impressed with her as a mother and also all of the wonderful plants and other life she has growing in her backyard that she uses specifically for her products. She is such a wonderful artist!
The process of creating dream pillows with Blair is a potently powerful ritual that brings her Herbal wisdom to life in the children she teaches.  In a gentle and inspirational way she awakes their curiosity to the power of medicinal herbs.  This educational process empowers the children to know how to take responsibility for their own well-being in both their waking hours and dream life.  I highly recommend this opportunity to anyone interested in learning how herbal wisdom can serve them in harvesting well being for themselves and their children.

– Lori Kochevar MS LPC;  Owner of Brighten the Brain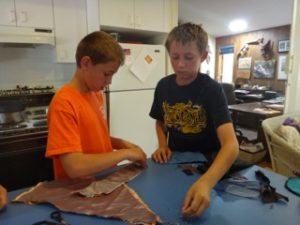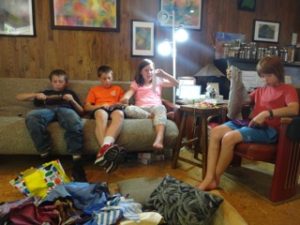 Our summer cooperative camp, which consists of 14 kids ranging in age from 8-11, spent part of the day working with Blair in her studio making soaps and lip balms. It was a great activity for the kids as they got to learn hands-on not only how to make the products, but also about the herbs that grow in Blair's garden that are used. The kids came into the workshop not sure what to do, but within minutes, under Blair's capable guidance, they got into the projects, worked out who was doing what when, and eagerly took turns pounding, stirring, cutting, mixed, dropping, smelling, decorating and even waiting! Everyone really enjoyed the day and I would highly recommend it to any group (kids or adults) looking to create. And even better, we still have the soaps and lip balms 6 months later and we still use them and smile remembering our time her gardens and workshop.

– Seneca; Parent