I recently completed Healing Touch Level 4 training in Boulder, CO. As a Healing Touch Practitioner-Apprentice (HTP-A), I will be conducting 100 one-hour sessions over the next several months for my Level 5 HTP certification.
Healing Touch sessions are generally one hour in length. Like a Reiki session, you are fully clothed to receive a gentle hands therapeutic touch on a table. HT can also be done without touching the body. The sequences are specific for your healing intention.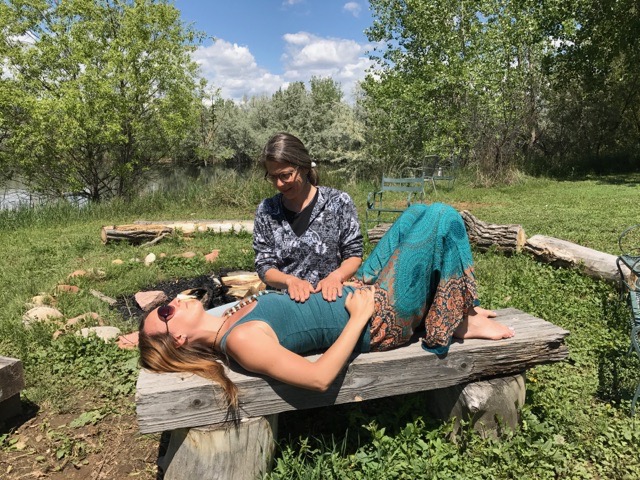 Sessions are complementary until I reach certification. Donations are gratefully accepted while I embark on advanced energy studies with a mentor.
Healing Touch (like Reiki) is a wonderful complement to your regular doctors visits and self care practices of massage, acupuncture, psychic sessions–you name it. It is found in hospitals, hospice and private practices. It is the only healing modality with two accreditations. There is much anecdotal and scientific evidence that HT can benefit those preparing for surgery and those coming out of surgery. It is also good for pain management, anxiety, wound healing, and detoxing.
Put self care back in your life this summer. While the kids are at camp, come experience a session! Healing Touch is great for stressful periods and transitions to come back to a balanced and grounded place because when you are happy and feeling good, it ripples out into your home and community.
Schedule your appointment soon as I have limited office space hours. If you want Reiki sessions, those too can be scheduled online for the regular $80 rate. For Reiki folks–summer special through Labor day– buy 4 and get your 5th session free!
I look forward to seeing you back!
Blair
Please share with anyone you think would like to try this healing modality.